<b>June 23, 2005 - Thursday</b>
We departed Calgary around 8:00pm in the Baby Blue Sufferance Mobiles, prepared to drive through the night all the way to Kamloops. The roads were fine until we hit Golden, where there was construction due to blasting. (DJ has pictures of this that I don't so hopefully he'll post the ones I'm missing!). Somewhere around there we stopped to eat at a place that had 5 different kids of gravy, and crayons to colour on the placemats. I kept forgetting to put batteries in the camera when we stopped for piss breaks, but it didn't matter too much because it was dark and there was little to see.
<b>June 24, 2005 - Friday (First Gig!)</b>
After driving all night, it was kind of a relief to see the sun come up as we were descending upon Kamloops. It was about 5:00(?) in the morning when we rolled into a gas station and got ahold of Justin (DeMysteriisDomCanuckus from the Bloodred board), who offered his basement as a crash zone for everyone. Sleeping was awkward because there were so many of us, but we managed to get enough rest to be civil by around noon.
Justin offered for us to come to jam at his friend's place so after some groggy deliberation and a lot of yes/no's, we all decided to go. It was nice little setup right in the living room with a couple amps and an ole drumset, but it was enough of a warmup for the guys, and a chance to hang out with some of the locals. I can't remember the guy's name, but he had a wife and two boys. It was very kind of them to let us thrash around in the middle of their house for an hour or so.
After the quick warm-up we went to the music store to pick up the PA equipment for the venue. There was some VERY ORGASMICLY painted guitars in the shop and the people were all super nice! They seemed suprised that a bunch of people all the way from Calgary would come to Kamloops of all places for a show, but they wished us luck and a safe drive out to Van. We met the soundguy (I think who was also Dave??), his girlfriend, and a man named Kent, all of whom came back to the house with us. There was still a bunch of time until the show.
As we were going back to the house, there was a bunch of lightning and some loud claps of thunder that descended from the heavens. The skies were threatening storm and it was likely that we would get rain. A bunch of people convened at the house to hang out, kill time, eat pizza (MMMM, PEPPERONI..), shower...and I managed to hitch a ride with Rob and Tamara to the store to get some batteries for the camera, (but sadly you have to have a permit from the fire department if you want to purchase fireworks).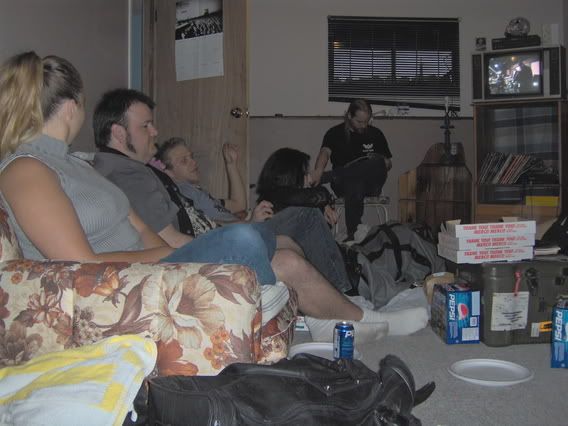 <i>Waiting to go to the show, and watching SEASON MACABRE!</i>
After gathering up all of our stuff and making sure nothing was left behind, we ventured outside into the PISSING rain and got soaked just walking out to the vehicles.
<i>About 5 minutes before the grande detour</i>
Something we didn't forsee was the chaotic nature of....well, nature. Just after crossing the main bridge going over the river, we saw a bunch of cops and thought there might have been an accident because of all the water, but it turns out that the road had flooded and they weren't letting people through! It looked like a waterfall appeared out of nowhere and was gushing water all over the road. (Again, DJ had all the cool pictures of the lightning and the road getting washed out)...so we had to make a grande detour the LOOONG way. We stopped by the sound guy's place only to find out that the venue might be flooded! As far as anyone knew at that point, the show would go on, and there was already a team of people that were cleaning it up. I didn't know what to expect....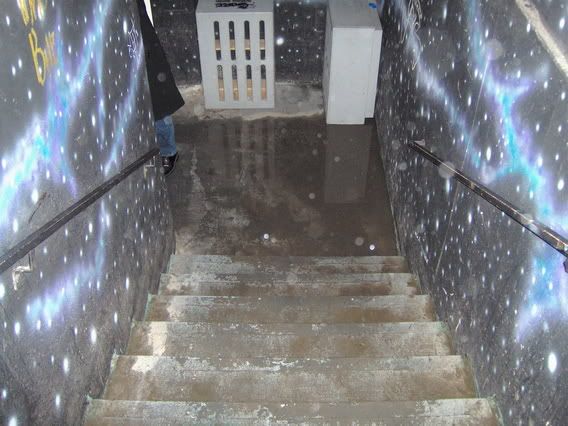 <i>The Max, right after the great flood</i>
It was looking kind of grim for awhile, and the mood wasn't great as we moped in the van's outside the venue. We thought there wasn't going to be a show at all, Then we were told we could host it upstairs, but we'd have to be out by 11:00. Then we were going to cut Whorehammer from the bill. But we got word that everything was all cleaned up and dry and that it was safe to move stuff in- and EVERYONE would get to play!!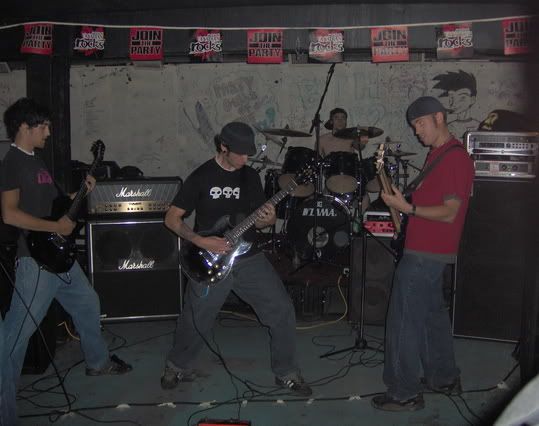 <i>Devoured Remains</i>
Unfortunately I didn't get any pictures of Sideshow. Actually, I found it hard to get into them. Maybe it was because they were Metalcore-esque...or I don't know. Maybe it was just the nerves. It was a good thing I had Chad and the rest of the guys there to make me feel better (and Lance to set up the cab so I didn't blow anything up!).
When Whorehammer went to play, we started off with Call From the Grave and worked our way through the setlist (minus a few songs like Transylvania, and Procreation that we JUST didn't get down before we left, and Bloodlust because we didn't have that much time). I didn't feel as nervous after we got through a few songs, but my right leg wouldn't stop shaking and that scared me more than anything! Once we played Phantom of the Opera, people were singing along and jumping up and down and running in circles!! As soon as we were done, we did the SNEAKIEST trade-off ever, and within 15 seconds of Whorehammer finishing, Sufferance was hypnotizing the town.
I have no Whorehammer pictures, but hopefully someone does that was there. But to make up for it, here's some shots of Sufferance and the raging mosh pit instead!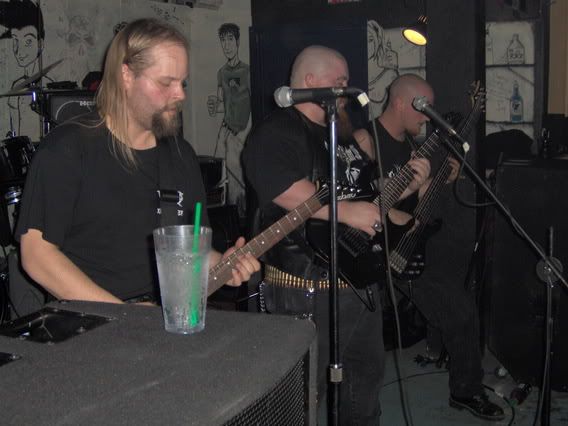 <i>Chad, DJ, and Lance</i>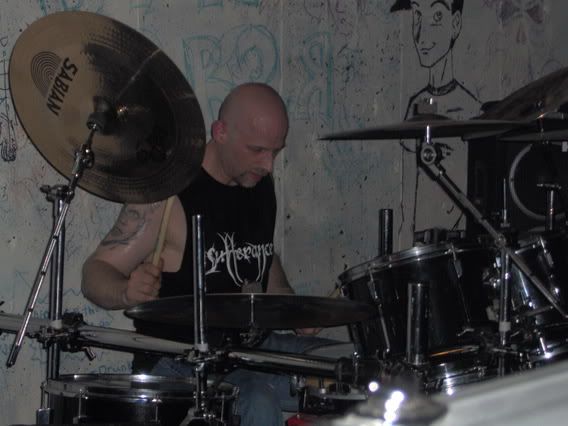 <i>Rob-o-rama</i>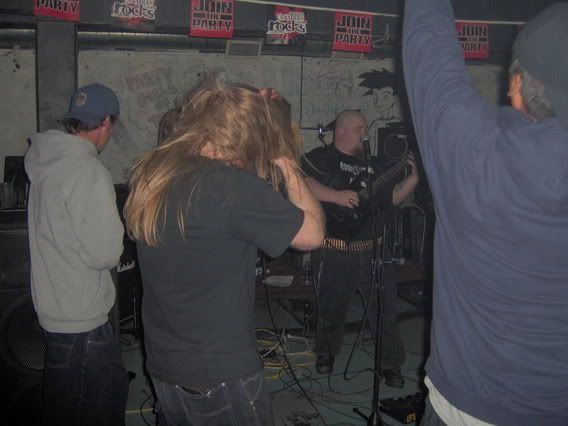 <i>Headbangers</i> (The guy with the long blonde hair is the one whose house we jammed at)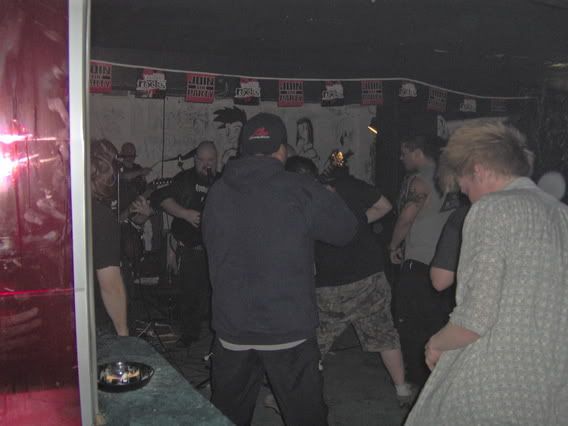 <i>Crazy Moshers</i>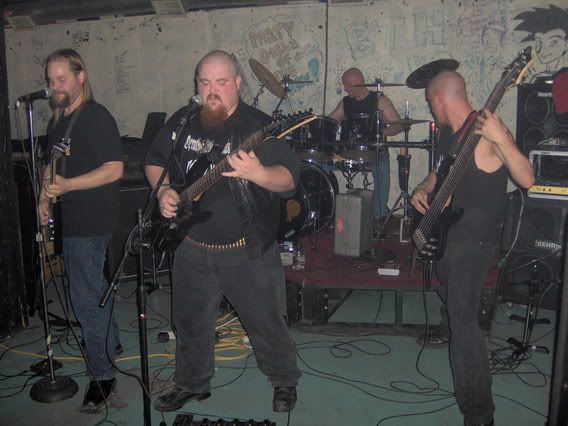 <i>SUFFERANCE</i>
Everyone went BERZERK for Sufferance, it was almost as if they'd never heard metal before! The teardown was pretty quick, and the guys made a shitload of cash on Merch. $$*ch-ching!*$$ So we pretty much packed up and left town, but not before thanking everyone involved with helping us out with this show...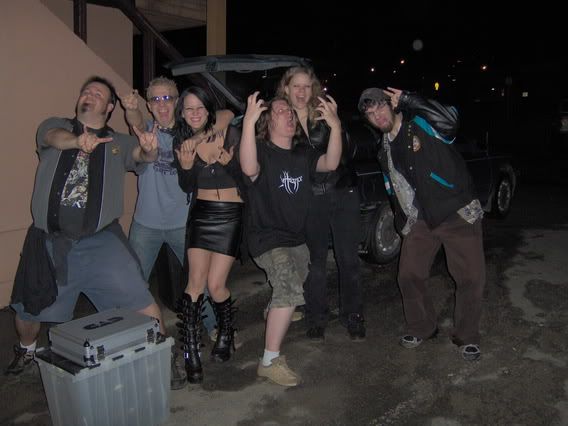 <i>The Kamloops Team</i>
<b>June 25, 2005 - Saturday</b>
It was around 1:30-2:00am by the time everything and everyone was loaded up to go. Everyone was so tired, but still running on the adrenaline of the show. As we were pulling out of the venue and crossing the traintracks, DJ's van wouldn't go forwards because of a leak in the transmission. The van would still go, but we would just have to be careful and make sure it was full of fluid.
We pulled over on the side of the road in the most convenient and scenic rest area on DJ's orders to smoke some cherry flavoured cigars (in honour of me playing my first show and to symbolize 'popping the cherry' :lol)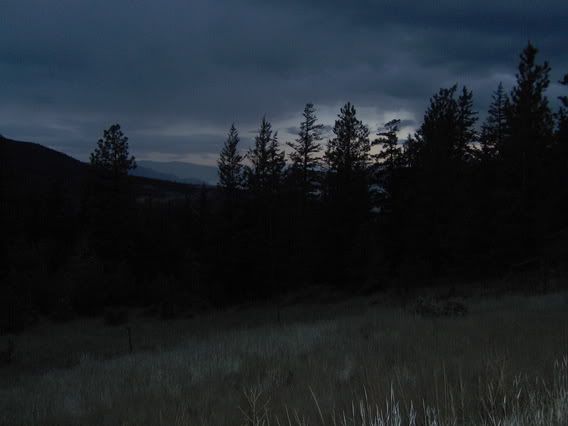 <i>Cigar Break in the middle of the night.</i>
After falling in and out of sleep, trying to stay awake to make sure Rob didn't fall asleep while he was driving...I remember reaching the Coquahalla highway to pay the toll and use the washroom and seeing this sign and thinking that the cup was a toilet.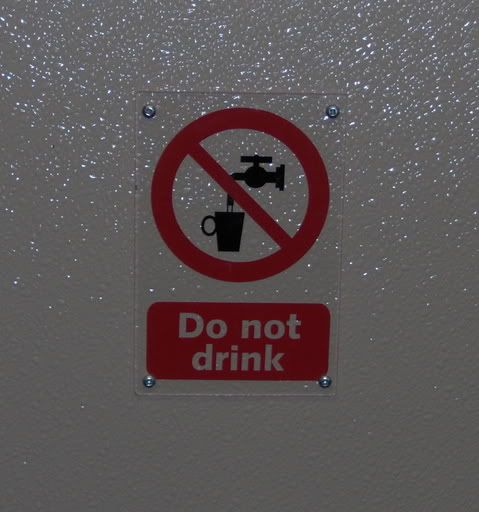 <i>DO NOT DRINK</i>
The rest of the drive was surreal. I remember feeling like I was in Japan because all the mountains were covered in fog, and the leaves on the trees were so exotic compared to the various grasses we have here in Alberta. We would go up and down through the fog and it felt like one of those jungle safari tours, just without the annoying guy pointing and telling you that there's a tree over there and a deer over here.
We pulled into Hope to get directions on how to get to some friends of Rob's where we'd be staying. We took a wrong turn right when we left Hope and ended up taking the VERY scenic route all the way there. (Great driving Rob!) We got there all the same and after some quick introductions, and a few beers, everyone passed out somewhere in the house.
We woke up around noon only to have to do nothing but relax, shoot the shit, check out the yard and enjoy a few brews.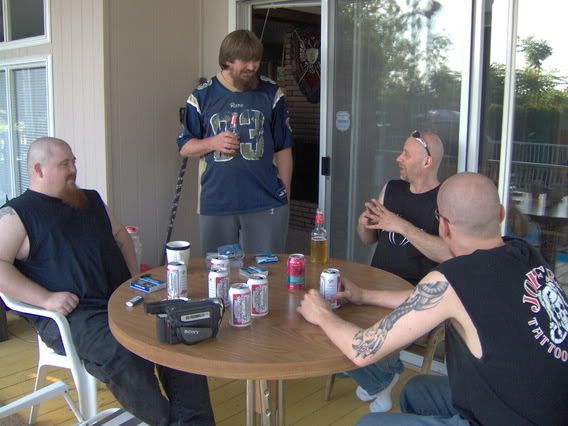 <i>Shootin' the Shit</i>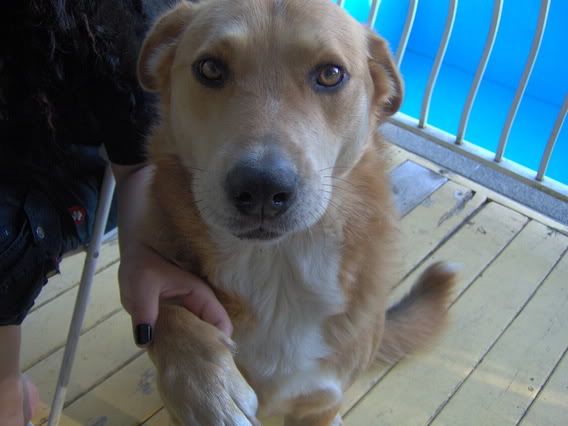 <i>TAZ!!!!!</i>
On our way into the city, Chad and I rode with John and Heidi who told us all about the nature of the homeless people and crack addicts. They explained to us how you could tell the bicycle people apart (which were new and which were old), where they lived...here's some shots as we were coming into the city, then descending into the madness.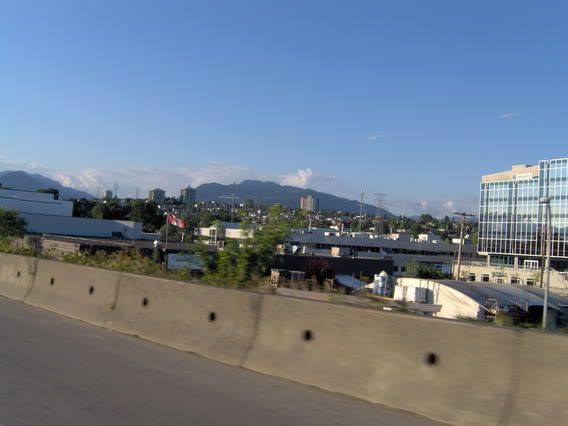 <i>City Limits of Vancouver</i>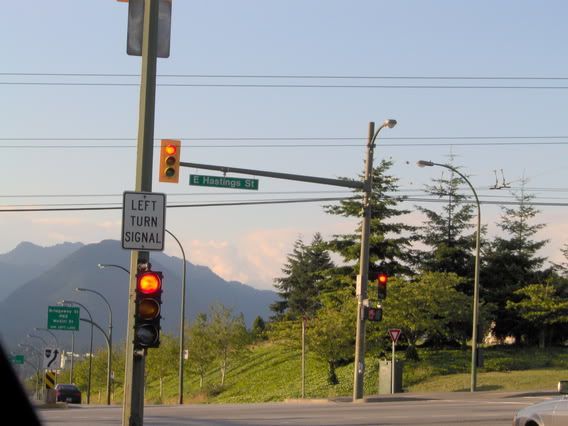 <i>Turning onto East Hastings St...</i>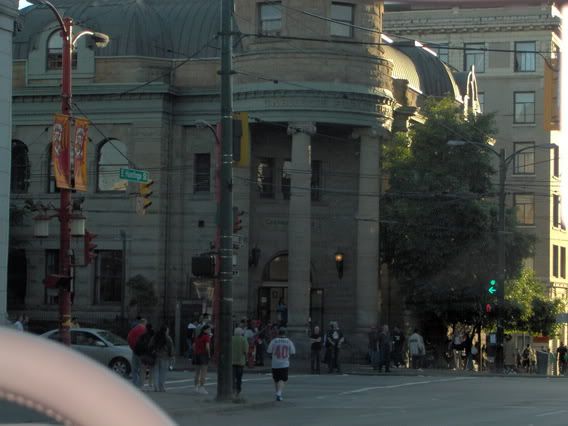 <i>A cool looking building near The Brickyard</i>
I must admit, there was a bit of culture shock while we were going down East Hastings St. We really don't know how good we have it here in Calgary until we venture out into a place like Vancouver and see the half-lifes wandering the streets there. It was really a case of, HOLY ZOMBIE CRACKWHORE RITUAL, BATMAN! I really don't know how to describe it. It's just something you have to see.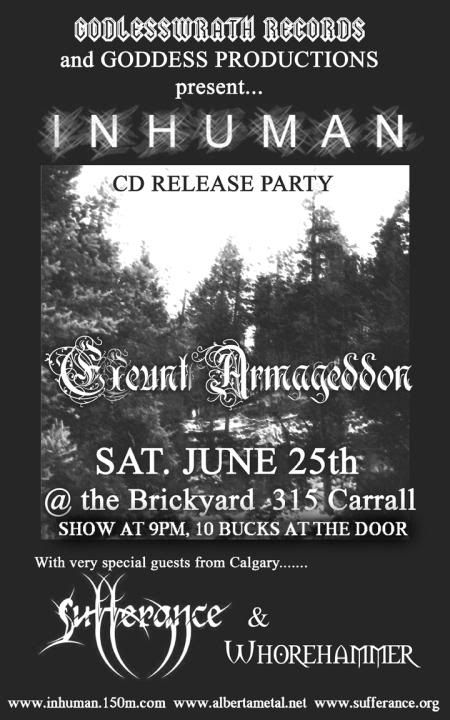 <i>The Poster</i>
Someone posted an article in one of the forums about how the alleyways in Vancouver smelled heavily of piss and it's because there are no public washrooms, blah blah blah- and they weren't exaggerating. We pulled into the alleyway beside The Brickyard because we thought it would be safer to bring our stuff through a back door, but as soon as we stepped out of the van...the sharp and sour stench of urine assaulted our nostrils. It was truly putrid. We were told to just use the front door, which was a relief...and managed to get all the gear in without any of it being stolen.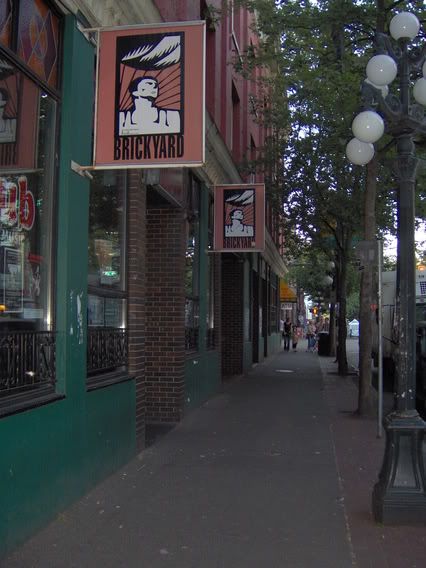 <i>The Brickyard</i>
Now, perhaps I'm being a little hard here.... There is a lot of rich culture built up in the city of Vancouver and such a range of diversity in it's people. We met quite an assortment of people here tonight! SOME OF WHICH INCLUDE: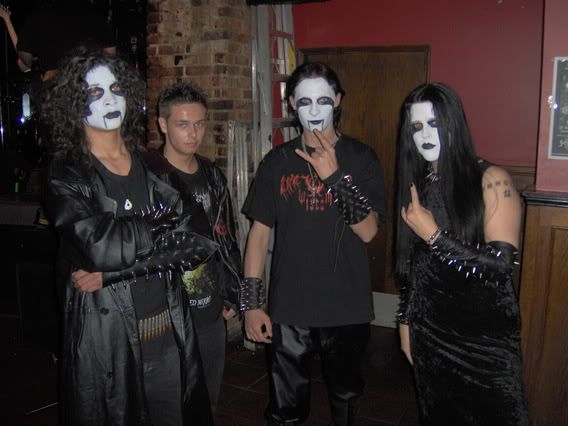 <i>Guitarist, Vocalist/Guitarist and Hot Bass Player/Vocalist from INHUMAN</i> ...and a random guy that was probably a friend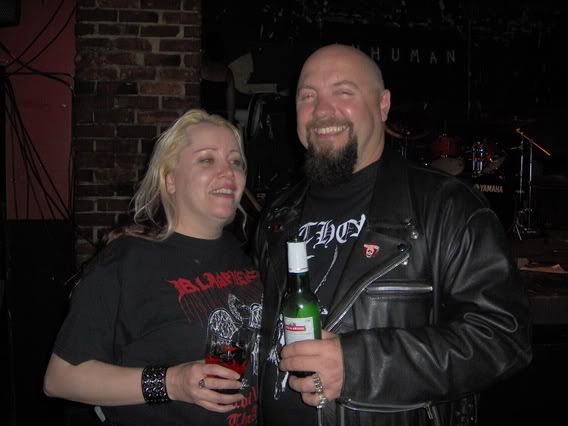 <i>Goddess and Maddog</i>
I'm pretty sure the show started around 10:00/10:30...and it felt a lot different going up cold than it did when the crowd is already half drunk and ready for action. But we still didn't do too bad. (Thank you to Heidi for taking these pictures of us). Here's WHOREHAMMER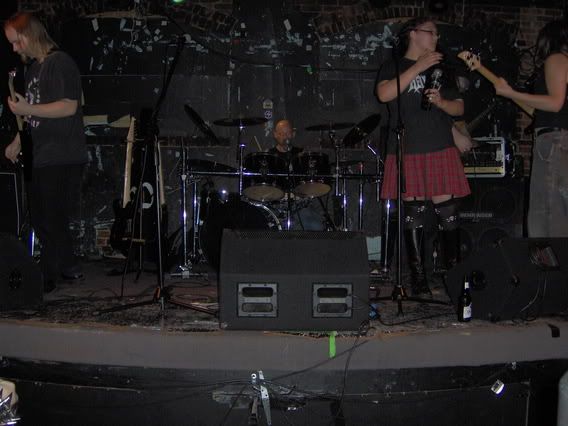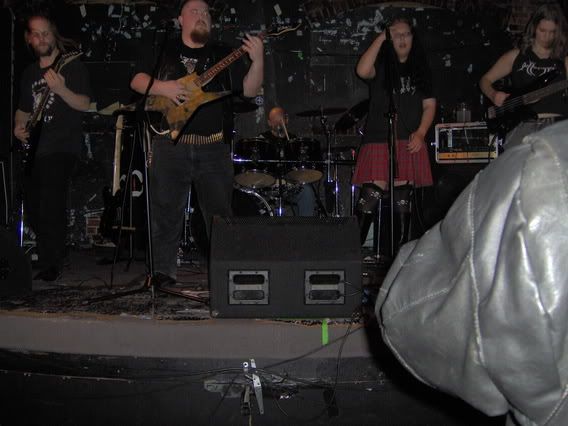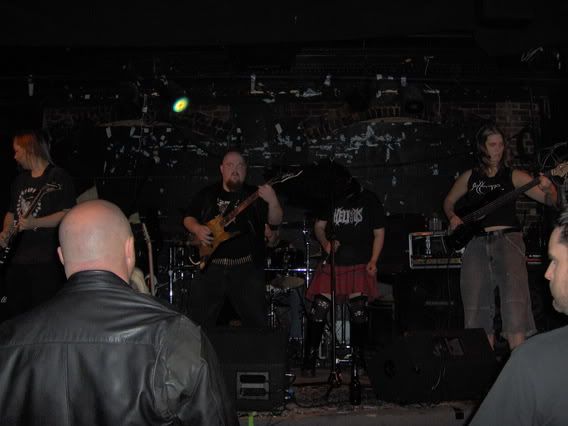 And unfortunately I don't have pictures of Sufferance from this gig because I was taping, but maybe someone else managed to get some that wouldn't mind posting them here. Inhuman had a pretty cool stage set-up. No one really knew what to expect because we'd all heard different things, but their stage setup was pretty cool. They are all confident preformers and it's evident that they feel very strongly about their music. Here's some of the better pictures.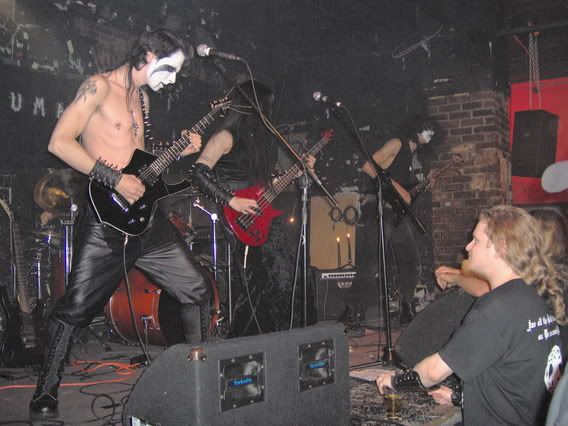 <i>Inhuman</i> (I rendered the lighting on this so you could see the band and what the venue looked like)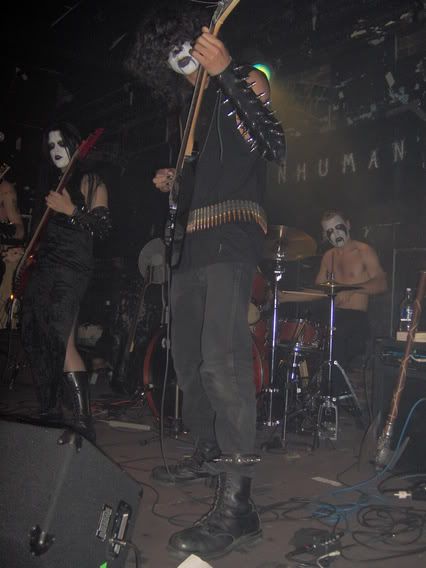 Speaking of diversity within the community....we met a fellow here who called himself, "The Prophet". Now, the Prophet spent most of his time dancing around to Inhuman and trying to move in front of the video camera. He really liked to spin around in circles. Apparently he busted out his crack on the bar and the bouncer literally picked him up and threw him out the door.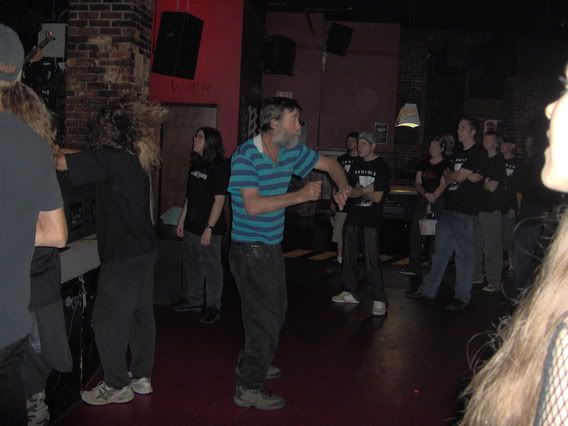 <i>THE PROPHET</i>
Here's something you'll probably never see again: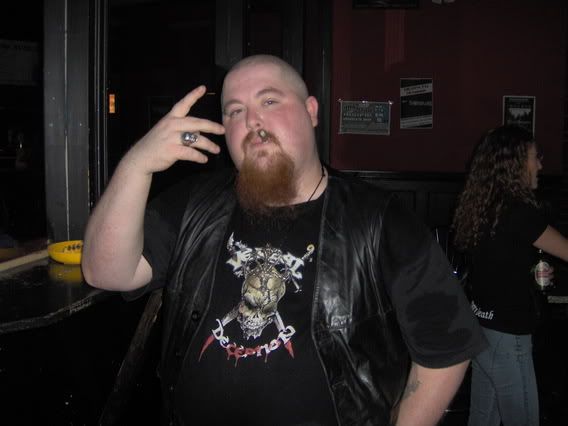 <i>DJ SMOKING A CIGAR</i>
<b>June 26th, 2005 - Sunday</b>
After the show was over, we decided it would be best NOT to try and go home that same night. Instead, we decided to stay another day and head out early Monday morning. What a freakin' blessing. Heidi and John fed us a super fantastic meal of spaghetti and the post-show madness ensued from here. Events are skewed....but here's some of the evidence that remains.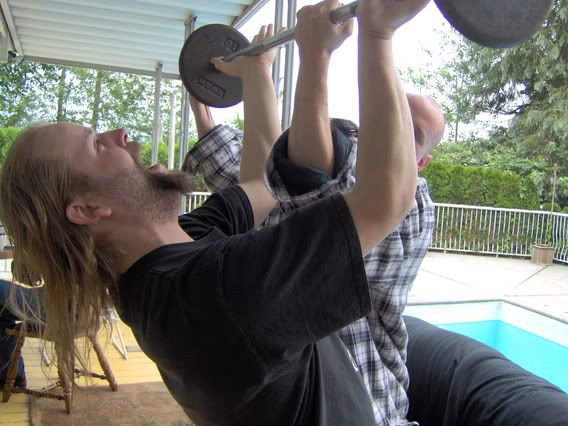 <i>Chad and Lance lifting 20 pounds of pure metal!</i>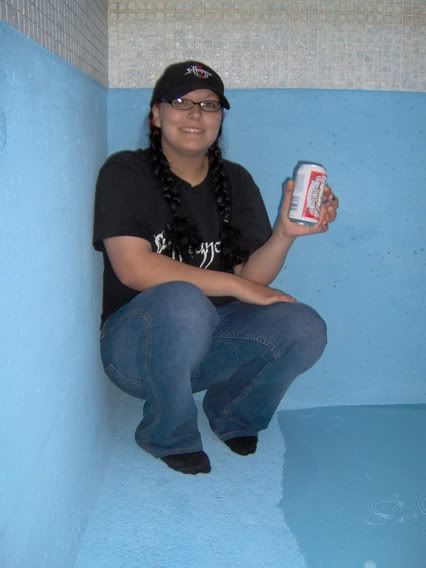 <i>Tamara</i>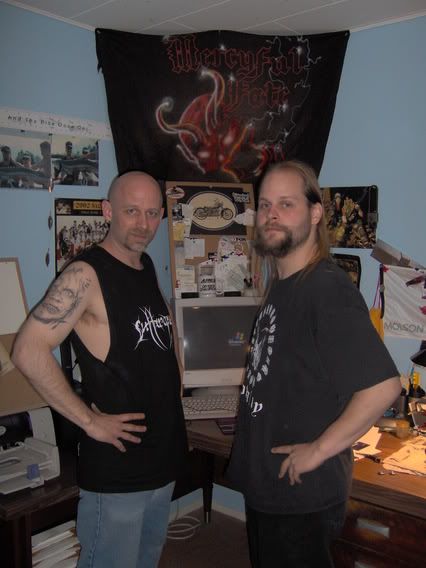 <i>MERCYFUL FATE</i>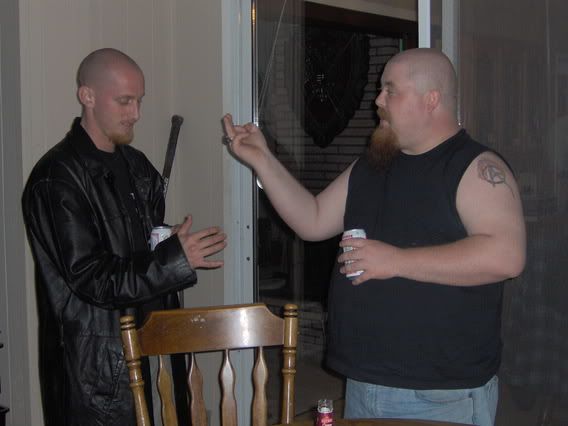 <i>Lance and DJ</i>
<i>Always with the bears...</i>
<b>June 27th, 2005 - Monday</b>
The trip home...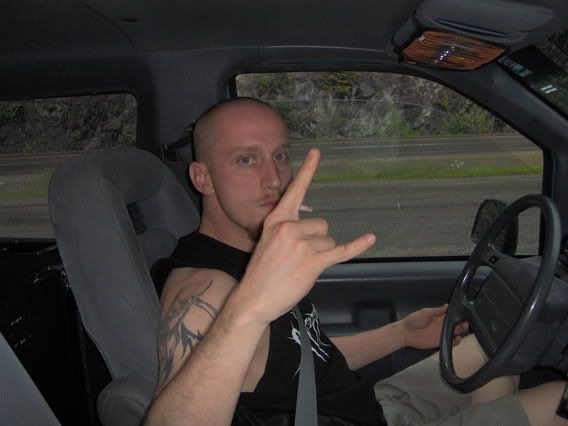 <i>Lance</i>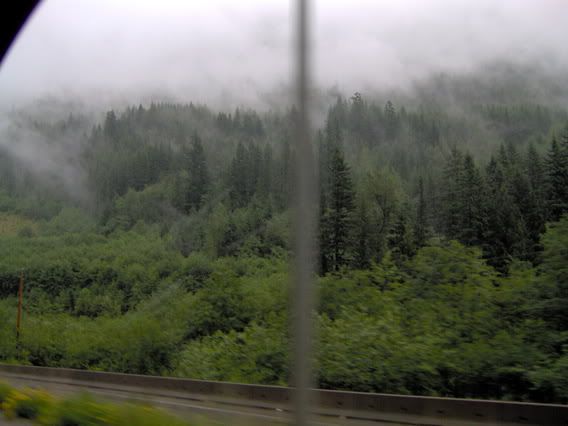 <i>Misty Mountain Hop</i>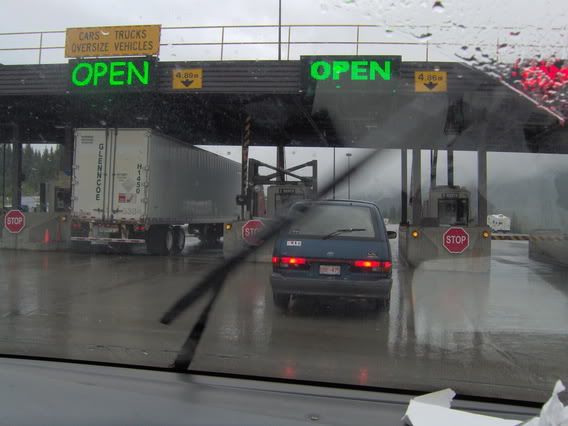 <i>Gettin' back onto the Coquahalla</i>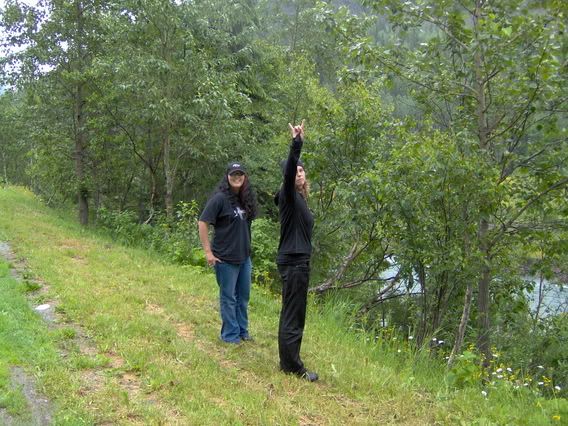 <i>Me and Tamara</i>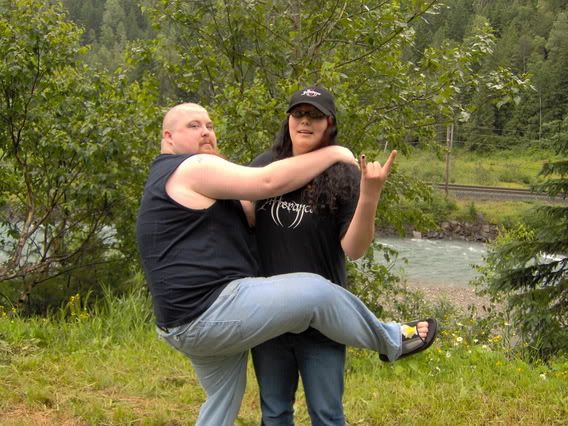 <i>Me-OW!</i>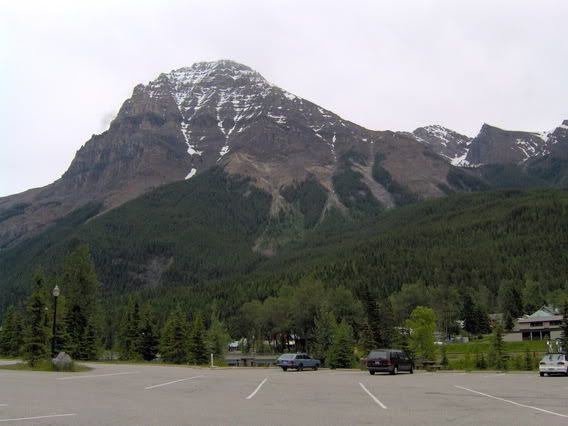 <i>Banff. ALMOST HOME!!!!!</i>
After spending around 16 hours in the car, (and even making a stop off in Kamloops because we accidentally picked up Justin's guitar!!!) we finally rolled back into Calgary around 9:00. And there you have it. The marvellous adventures of Sufferance and Whorehammer.